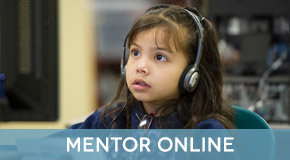 Volunteer opportunities from October through May each school year
If you would like to volunteer for Read Houston Read, registration is now open, which begins with a background check. Even if you volunteered last school year, you will need to undergo a new background check.



The Read Houston Read program serves more than 300 first grade classes where children are in desperate need of an adult to read to them, listen to them and reinforce the progress started in the classroom.
Now you can share the joy of reading without ever leaving your desk. Read Houston Read is partnering with Innovations for Learning to provide volunteers with access to TutorMate, an online tutoring platform. All it takes is a telephone and internet connection. By giving 30 minutes to one hour of your time, once a week throughout the school year, you will help a first grader become closer to reading and writing with fluency. As an online mentor, you will:
Share the magic of books by reading to a child.

Engage in fun activities that directly relate to the reading.

Listen to a child read as they share their own book with you.
Here's how to get started:





1. Register for an account on Tutormate


2. For the email address field, you may use your personal email.
3. For the tutor group field, choose "Community Tutors - Houston" from the drop down menu.
Once you have filled out the necessary information, you will be guided through an onboarding process to get you set up as a tutor.

You are all set to share the magic of reading with your student(s). Have fun!
All online mentors for Read Houston Read have an opportunity to meet their student in-person once at the beginning and again at the end of the school year. Click below to watch a video featuring last year's "end of the year celebration" with online tutors and their students.


Online Tutors Meet Students from Houston ISD on Vimeo.
Note: You must have a successful background check on file in order to be a mentor.

Once your background check is complete, you will eligible to sign up as a mentor.